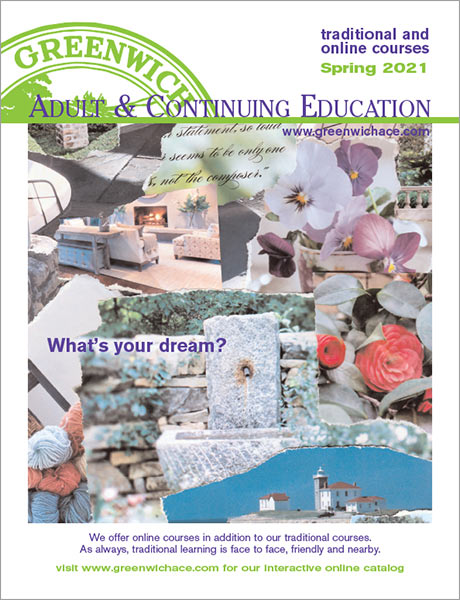 View Our Interactive Catalog ›
Welcome to Greenwich Adult & Continuing Education: Spring, 2021
Please note: ESL, GED, & Enrichment on-line and in-person classes will be offered in the Spring.
Please call us at 203-625-7474 to register. In the Spring we will have in-person and on-line classes for ESL, GED, and Citizenship. Las clases de ESL, GED, y Citizenship comienzan el 11 de enero de 2021.
Our Continuing Education Program will be on-line in the Spring. Hopefully, we can have in-person classes in the near future. This Spring there will be many on-line courses such as: SAT Prep Class, French, Italian, Spanish, Genealogy, Finance, Medicare, Guitar, French Horn, Private Music/Instrument Lessons, Art, Tai-Chi, Yoga, Knitting, Bridge, and Images of Chinese Women in Literature to satisfy your life-long learning goals and interests. We will continue to add to this list of classes as we hear from the instructors.
In addition to the on-line courses, we have over 250 instructor-facilitated on-line courses through ed2go.com/greenwich. (See link of website). You can complete these courses from home,office, or in the corner of your favorite coffee shop. Explore our website for our complete list of on-line and in-person courses and locations.
If you have any questions about our Spring Classes, please call Kathy Post at 203-625-7474, or email her at kathy_post@greenwich.k12.ct.us. If you speak Spanish you may also contact Braulio Santiago at braulio_santiago@greenwich.k12.ct.us or call 203-625-7403. Si necesita ayuda en espanol puede enviar un email a Braulio Santiago.
Visit www.ed2go.com/greenwich,
Sincerely,
Braulio Santiago
Adult and Continuing Education Coordinator
Get notified of new course offerings, last minute additions, & much more!
sign up now ›